Digital Natives Demo: Writing
Ever find yourself with a spot of writer's block, watching that cursor blink blankly at you in unrelenting mockery? Well today is your red-letter day. With a little help from our apps-olutely brilliant friends over at the Apple/Android store, we'll get you feeling author-ised in no time. Just a bit of ink-couragement for you to help you article-late your thoughts. Thank us dr-after. (Sorry.)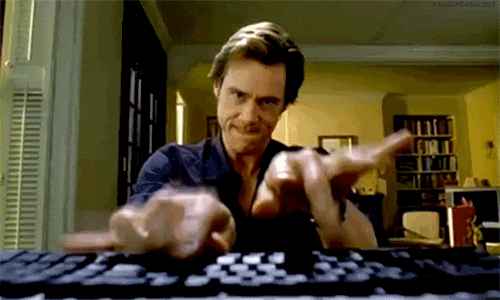 Paragraphs
BREAD AND BUTTER
Paragraphs' minimalist design helps you focus on exactly what you're there to do: get the words on the paper without other distractions. Even the toolbar is right next to the sentence you've highlighted when you need it. Zero excuses. Total focus.
BIT ON THE SIDE
Dark mode lets you write at night – just on the off chance you didn't manage to get everything done in daylight hours.
Hemingway
Bread and Butter
One for the semicolon obsessed out there, Hemingway helps you emulate its namesake's infamously direct style. It highlights overly long, complex or dense sentences that are too hard to read. Adverbs are also out, and you're encouraged to use 'verbs with force' instead. Get straight to the point with no unnecessary and long-winded gobbledygook nonsense.
Bit on the side
You'll get a readability grade and average reading time to boot.
Daily Page
Bread and Butter
Daily Page sends you prompts to encourage you to write each day. Recent themes from the app have included: 'How do you think history will describe our current generation?', 'She never knew…' and 'What's something that surprised you recently?' You have a day to respond to each theme, and with a blank canvas in front of you, this can be as long or as short as you'd like.
Bit on the side
Keep track of how long your streak has been and your average word count.
Keybr
Bread and Butter
Keybr teaches you to touch type. No frills, just thrills, as each key is slowly incorporated into your practice. Learn which letters are your weak points. You're then free to deal with them as you wish (we recommend bashing them extra hard in revenge).
Bit on the side
If it's your bag, log onto multiplayer mode to get competitive with total strangers.
Howler
Bread and butter
What's better than a joke website? Well, a collaborative joke writing website that allows you to write set-ups and punch lines of course! Howler encourages you to unleash that pun-loving person within and butt in to finish other people's jokes to your heart's desire.
Bit on the side
With an addictive peer review system, there's no fake or sympathy laughs allowed in this joint. Upvote or downvote other people's contributions to make the overall leaderboard.
Read our article on the importance of having professional writers on board, or get in touch with us about editorial content. Find us on Twitter, Facebook and Instagram or send us an email at hello@digitalnativescontent.com